on Jan 6, 2022 at 7:03 PM
At the Department of Ed, does gifted belong under special education?
---

User Posts: 1 - New User
---
Hello,
I would very much appreicate your thoughts and ideas about this question: At your state department, is gifted housed within the special education? Do you think it belongs there? Why or why not?
In my state of North Dakota, gifted is nestled within special education but there are some conversations occurring now about moving it out. I believe the reasons mostly are because then it could make it easier for teachers across our state to obtain their state licensure in gifted without having to follow the more stringent course guidelines outlined in sped. I do have strong feelings that gifted does belong within special education, but I would like very much to know more about what others' ideas about this might be and the reasons, too.
Ann Duchscher
North Dakota Association for Gifted Children, President & Chair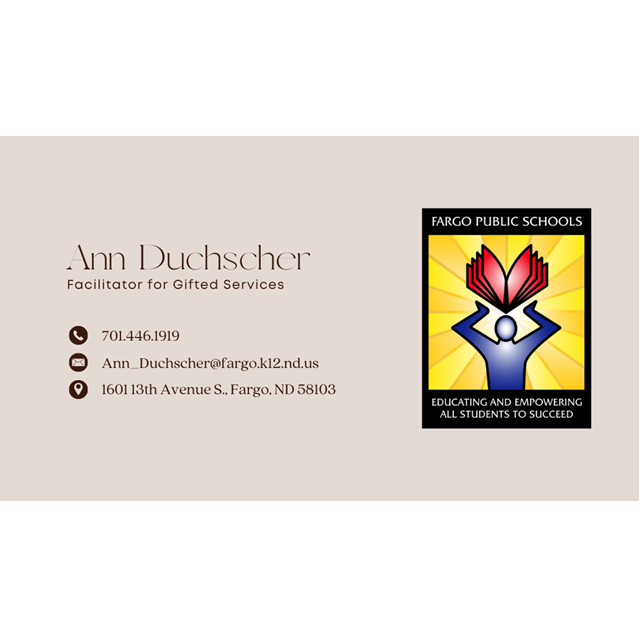 4

people saw this online
45

people saw this by email
on Jan 11, 2022 at 5:14 PM

User Posts: 0 - New User
---
In Nebraska we are not under special education, we have a specialist at the state department of education that is under new leadership and gaining traction in this rural area!
--
Kristen E. Job
Executive Director
Nebraska Association For Gifted (NAG)
9906 Emiline Street
La VIsta, NE 68128
402-802-3556
on Jan 8, 2022 at 3:05 AM

User Posts: 3 - New User
---
In Florida gifted is under the state Bureau of Exceptional Student Education of the FLDOE. At the Florida Gifted Network we work to keep it there because gifted funding comes under ESE and we would lose that funding if gifted were to be taken out of ESE.
on Jan 7, 2022 at 3:41 PM

User Posts: 3 - New User
---
Thank you for your question, Ann.  I hope we can explore this topic as an Affiliate group and in a timely way.  How gifted services are organized at the state level is critical to the program's ability to serve children and manage resources.
Arkansas's gifted program is managed within the state Department of Elementary and Secondary Education by a capable team led by a Director of Gifted and Talented services.  The gifted and talented program is one of 16 groups under "Learning Services" led by a deputy commissioner who is two steps away from the commissioner/secretary of education.  Here is the link to the organizational chart for the
State of Arkansas.
  Teacher licensing is handled by another department, Teacher Effectiveness, within DESE.
Thanks again for posing this question to our group.
Christine
Christine Deitz, Associate Director, Ed.D., NBCT
AGATE Immediate Past President
NAGC Board of Directors, State Representative
National Board Certification Support Site Coordinator
Jodie Mahony Center for Gifted Education
University of Arkansas at Little Rock
2801 South University Avenue, Dickinson Hall 406
Little Rock, AR  72204
fax number  501-916-3438